The art of foraging, whilst being an undoubtedly exciting and very-rewarding activity, can still be a very dangerous act if done without either consulting and cross-referencing several identification guides, or without the helpful insight that a foraging expert can provide.
I thought that for that reason, you may at some point look to go foraging with the help of a local expert, wherever you're based in the UK. Thankfully, you shouldn't be too far from a self-proclaimed forager, someone who you can trust to take you out and to take you to off the beaten-track to some of the more hidden locations that only they are likely to know (and thus guaranteeing you're bound to find something exciting, not something you can always rely on). But more than this, going out looking for wild food with a seasoned-professional should provide you with an added level of comfort when it comes to picking, and eventually eating, your find. It's true that nobody can guarantee that something you pick is going to be safe to eat, and so that whenever you participate in foraging food, with an intention to consume it, then you have to realise that you're doing so at your own risk.
Finding a local expert should make you feel a lot safer if you don't happen to be armed with many years foraging experience, and so it can be a great way to get involved in this past-time. Going on local forays will allow you to meet other small groups of probably local individuals, with at least 1 shared interest, as well as the opportunity to absorb just some of the knowledge of the head-forager.
This is by no-means a list of foraging experts, and if you feel I've missed someone reputable out, or if you'd like to be included yourself on the list, then just send me a message and I'll see what I can do.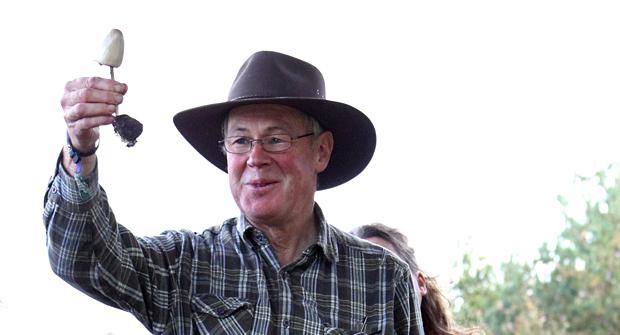 Popular Towns and Cities to go Foraging in the UK
Some of the most popular towns and cities to go foraging in are listed below. These might be popular due to natural forests or such environmental factors, because there's a big following in the area, or for some other reason (maybe lots of expert foragers and guides are available in the area!).
If you know of any other areas you'd like me to feature below, or other foragers who deserve to be listed here, please send me a message.
Foraging in Aberdare
Foraging in Eastbourne
Foraging in Macclesfield
Foraging in Southampton
Foragers in the UK & Ireland (by County)
England
Avon
Bedfordshire
Berkshire
Bristol
Buckinghamshire
Cambridgeshire
Cheshire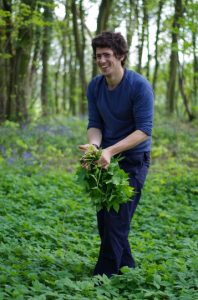 James Wood (Totally Wild UK) – James Wood is an experimental wild food forager who specialises in creating exciting, innovative and extremely tasty recipes utilising wild foods. He's the creator of "The Foraged Book Project" a 158 page wild food guide made entirely from wild and foraged materials – mushroom paper, oak gall ink, flower based paints, seaweed glues and nettle thread. Having a background in Forest School and qualifications in teaching his courses are deeply engaging, allow participants to have as active, hands on and fun experiences as possible.


Cleveland
Cornwall
Cumberland
Cumbria
Derbyshire
Devon

Dorset
John Wright (EdibleBush) – John must be one of the most well-known foragers in the UK thanks to his appearance on the River Cottage TV series in which he often takes the viewer foraging. Based in West-Dorset, John has also authored several of the extremely popular River Cottage books, including the Edible Seashore, and the Mushrooms book. You'd be hard-pressed to find a more welcoming, and knowledgeable forager in the South of England.
Durham
East Suffolk

East Sussex
Geoff Dann (GeoffDann.co.uk) – I am a professional foraging teacher who runs both private and public events foraging for fungi, plants and seaweeds in various locations, mainly in south-east England. I'm an ex software engineer, who went off to study philosophy in my late 30s and now work full time teaching and writing about wild food.
I run a variety of courses. In the autumn I do two types of mushroom foraging course. One involves a four hour walk in a very large bit of Forestry Commission woodland in West Kent in search of the widest variety of fungi possible, which we will then cook and taste. The other is on a smaller bit of private land in Brede (just north of Hastings), and includes a foraged meal. This is a more relaxed affair, for people who can't walk for four hours. I also run spring foraging courses (mainly for plants) on the same bit of private land. Finally in the summer I do seaweed foraging courses, near Eastbourne.
Essex
Gloucestershire
Greater London
Greater Manchester
Hampshire
Hereford and Worcester
Herefordshire
Hertfordshire
Humberside
Huntingdon and Peterborough
Huntingdonshire
Isle of Ely
Isle of Wight
Kent
Fergus Drennan (FergustheForager.co.uk) – Based in Kent, East Sussex, and anywhere else you' like him to be, wild food experimentalist, course facilitator, forager, the ever-curious Fergus Drennan, aka Fergus The Forager, has been gathering and learning about wild plants, seaweeds, and fungi for over 40 years, beginning on Wimbledon Common, aged 3 years, collecting dandelions for the family's pet tortoise. Since those early days, and through much creative and experimental exploration and detailed study he has continued his foraging practice, not only as a means to understand and to discover the practical relevance that foraging has in the modern developed world, but also in terms of what it means to be an environmentally conscious human in relation to the natural world. "Can foraging ever be considered a truly sustainable practice, and if so how?", is a question that always orchestrates his foraging activity, as does a pursuit of foraging's playful and creative possibilities, whether they be found in novel recipes using plants, fungi, and seaweeds, or unlocking the possibilities that wild botanicals offer for other non-food-based creative pursuits. That includes, among other things, the making of baskets, mushroom paper, and natural dyes and pigments. Fergus has a huge amount of wild food knowledge to share, and an array of imaginative ways of doing so. Even after just one afternoon with him, the natural world around you will never look the same again.
From 12 hr day-long total immersion foraging and feasting courses exploring multiple habitats, to shorter 3 hr highly informative and focused London parks and green spaces workshops, to more specialist ones covering, for example, fungi, seaweeds, or even simply acorns in depth, under Fergus's enthusiastic encouragement you will go home with a wealth of new flavour experiences, creative culinary inspiration, and a firm grounding in the endless possibilities that foraging offers for the good life!
Lancashire
Leicestershire
Lincolnshire
London
Merseyside
Middlesex
Norfolk
Northamptonshire
Richard Mawby (RichardMawby.com). Richard not only teaches foraging but says it's a big part of his every day lifestyle – which you might see from his 'nearly up to date' platforms.
You can see what he gets up to at his website (link above) or find him on Facebook or Instagram under "foragefrolics".
His main area of foraging is Northamptonshire but he's willing to travel – he's often down south during the Summer months, this year all on electric!
Northumberland
North Humberside
North Yorkshire
Nottinghamshire
Oxfordshire
Soke of Peterborough
Rutland
Shropshire (Salop)
Somerset
South Humberside
South Yorkshire
Staffordshire
Suffolk
Surrey
Sussex
Tyne and Wear
Warwickshire
West Midlands
Westmorland
West Suffolk
West Sussex
West Yorkshire
Wiltshire
Worcestershire
Yorkshire
Scotland
North
East
South
Mark Williams from gallowaywildfoods.com is a fo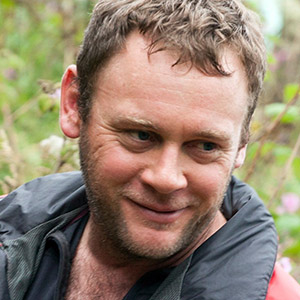 raging tutor/guide. He provides private tuition and public walks, courses and events covering edible plants, fungi, seaweed and shellfish; their food, drink, medicinal and utilitarian uses. He does coastal foraging, fungi walks, wild booze walks, foraged cocktails and is also a wild food chef. He does wild food consultation for chefs, food producers, distillers, brewers etc. and writes about foraging.
West
Wales
North
East
South
West
Northern Ireland

Republic of Ireland
North
East
South
West

Are you a forager who would like to be featured on this page, or know of an expert forager who'd be worthy of a place here? Just send us a message or tweet to us @foragedfoods with your tips!
Disclaimer – as already mentioned, if foraging without an expert on hand, or without referencing several identification guides, foraging and consuming wild food is a very dangerous activity. Never eat anything unless you're 100% sure of exactly what it is first, and also be considerate when collecting wild plants, fungi or animals. Leave enough for others to enjoy and never take more than you need. Be careful to follow the relevant legislation on collection limits, and be wary of trespassing when out foraging. Stick to public land, and when venturing out to forage on the coast and in dangerous areas always check the weather forecast (and tide timetables) and make someone else aware of your plans.